Administrator
Staff member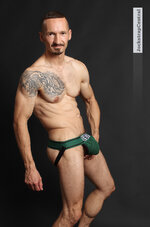 Our sexy German model Tobias managed to get back to Toronto and we got him in another photo shoot. Here's a few of the first photo from the shoot of him in our new Cellblock 13 Halfback Jockstraps.
*Tobias is a customer of ours and emailed us asking to model for us. As I do with any hot guys from away - I tell them if they can get here on their own dime and we have things to shoot then we'll make it happen. Just so happens that he had lots of travel points and traveling is his hobby.
I never get tired of seeing that crazy body of his - and he's so creative when it comes to posing and flexing.
Here's just a few of the photos: