Sorry guys for being pretty well absent for the past few weeks. With things opening up here in Toronto and finally able to do photo shoots for Jockstrap Central I've been basically chained to my desk trying to get a backlog of photos edited and new products launched.
As much as I'd love to be hanging out on Your Jockstraps more, it's more important that I concentrate on Jockstrap Central. After all, it's only because of Jockstrap Central that Your Jockstrap can exist.
Not being able to shoot our models and launch products the "Jockstrap Central" way has impacted our business over the past 8 months. But all my hard work shooting and editing and launching is paying off.
Unfortunately I can't relax just yet. We have another photo shoot tomorrow and another next week shooting brand new Cellblock 13 gear, King Dick gear and LOTS of new Bruto jocks, swimsuits, tanks and underwear. It's a good thing I love my job!
In case you're curious, I'm shooting our hot Mexican model Lenny tomorrow. In case you don't remember him, here he is: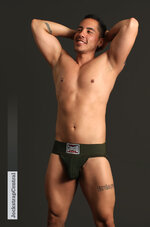 Cheers,
John.