Administrator
Staff member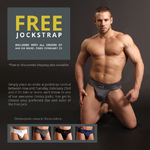 GET A FREE JOCKSTRAP WITH EVERY ORDER OF $40 OR MORE - 4 DAYS ONLY
From now until Tuesday, February 23rd, when you place an order at Jockstrap Central and your shopping cart total is $40 or more, we'll throw in a free
Omtex
jockstrap with your order.
It won't take long to reach $40 in your cart with over 300 products to choose from including all our new Cellblock 13 gear we've been launching over the last two months: Sexy and short Relay Shorts, our brand new X-Back Jock Pouches and Harnesses, modern but classic sport jock inspired Tight End Jockstraps and our crazy-hot Titan Zipper Back Shorts. We also relaunched our McKillop Max-bulge Long Johns for keeping warm during the polar vortex or lounging around the house to avoid the cold completely. Snag a harness or a few jocks and you've already got your free jock in your cart.
While supplies last, the free jockstrap will be one of our awesome Omtex Jockstraps. You get to choose your preferred size and color (black, white, grey, or navy) on the final stage of checking out (the final receipt page).
Omtex jockstraps
, made by the same company as our very popular Wolf jockstraps are phenomenal and if you don't have one already, this is a great chance to get one to "try" out. We're sure you'll be hooked! If you already have one, now's the time to stock up - you can never have enough!
* Due to limited supply, we will only be giving away one free jockstrap per order. Your order total must be $40 before shipping charges and any applicable taxes. Offer is not retro-active.
CLICK HERE FOR JOCKSTRAP CENTRAL