Administrator
Staff member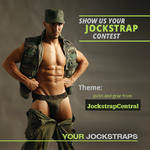 Grab your jocks and your cameras and get those creative juices flowing... Our third Show Us Your Jockstrap Contest is here.
The way it works:
Members submit a photo based on the theme between now and September 30th. Members vote for their favorites by clicking the like button on each post with a photo that they like. On October 14th, the members who posted the top two voted photos will win a $75 gift certificate to use at Jockstrap Central. A third winner will be randomly chosen to also win a $75 gift certificate.
The theme this time around is a bit different so pay attention (i.e. read the instructions). To coordinate with Jockstrap Central's 16 Year Anniversary, the theme for the contest this time around is simply:
Post a photo of yourself in Jockstrap Central jockstraps or gear.
As we're celebrating 16 Years, you can post a photo of you in your jock (or gear) from
ANY
brand we currently carry or have carried
. There's a LOT of brands so you should have something in your collection.
(
Scroll down to the bottom of this post to see a list of all the brands we're accepting
).
* If you don't have any of those brands in your collection then head over to Jockstrap Central and pick something up. There's plenty of time to get your order, take a photo and submit it. Not to mention, everything store wide is currently on sale during our Anniversary Sale.
As always, the photo can be as tame or explicit as you like.
Only enter one photo and the photo has to be of you in a jockstrap or some gear from a brand we carry or have carried.
Here are the rules:
You can only enter one photo so make sure it's your best
Your photo has to be a selfie of you in a brand of jockstrap or gear that we carry or have carried over the past 16 years. Scroll down for a list of acceptable brands.
The photo can be as explicit as you like.
You have to be a registered member of Your Jockstrap to enter (and to vote).
To enter your photo in the contest, use the Reply box below and use the Attach file button to choose one photo from your device. Once it's uploaded click the Post Reply button and that's it - you're entered.
When you upload your photo to your post, I recommend you upload the Full image instead of just the Thumbnail.
The photos you enter HAS to be of you.
The garment you're wearing or at least in the photo HAS to be a jockstrap or piece of gear.
In the case of a tie, the winners will be randomly chosen from the top voted entries.
To vote on a photo, simply like the post with the photo. A tally of the votes will appear at the top of the contest thread.
All photos have to be entered by September 30th at midnight. Any photos entered after that will be removed.
Voting can start as soon as the first photo is entered and voting will end on October 14th. Winners will be announced on October 15th.
Good luck!
Here's a list of the brands we carry or have carried. Any photo of you wearing a jockstrap or gear from these brands will be accepted:
4 Hunks

Activeman

Addicted Fetish

American Jock

Baskit

Blue Line

Breedwell




Bruto

Bike

Bodyworksman

Cellblock 13

COLT

Cover Male

Dirty Fukker

DMK Designs

DT




Flarico

Freedom Reigns

Full Kit Gear

GBGB

Gigo

Good Devil

Go Softwear




Gregg Homme

GX3

Intymen

Jack Adams

JC Athletic

JM

Jockfighters

Joe Snyder

KING DICK




Kinkwear

Kyle

Locker Gear

Magic Silk

Male Power

Man Zone

Maskulo

McKillop

Meyer




Mr. S Leather

Nasty Pig

N2N

Obviously

Omtex

Papi

Pikante

Pistol Pete

PPU

Pulse

PUMP!




Raw Studio

SafeTGard

Saw Sports

STUD

Sukrew

Timoteo

Todd Sanfield

Vaux

Wolf

Zakk