Administrator
Staff member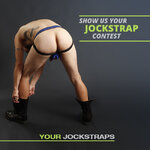 Grab your jockstrap and grab your camera, our very first photo contest is here.
Between now and April 19th take a photo inspired by the photo below and post it to this forum. Members vote for their favorites by clicking the like button on each post with a photo that they like. On May 5th, the members who posted the top two voted photos will win a $50 gift certificate to use at Jockstrap Central. A third winner will be randomly chosen to also win a $50 gift certificate.
I've purposely chosen a photo to mimic where the face isn't shown as I know a lot of members aren't comfortable showing their face. Scroll all the way down past the rules to see the photo to mimic.
Only enter one photo and the photo has to be of you in your jockstrap.
Here's the rules:
You can only enter one photo so make sure it's your best
Your photo doesn't have to be identical to the one I've posted below, just similar. It does have to be a rear view of you in your jockstrap.
You can be as explicit as you like.
You have to be a registered member of Your Jockstrap to enter (and to vote).
To enter your photo in the contest, use the Reply box below and use the Attach file button to choose one photo from your device. Once it's uploaded click the Post Reply button and that's it - you're entered.
When you upload your photo to your post, I recommend you upload the Full image instead of just the Thumbnail.
The photos you enter HAS to be of you.
The garment you're wearing HAS to be a jockstrap.
In the case of a tie, the winners will be randomly chosen from the top voted entries.
To vote on a photo, simply like the post with the photo. A tally of the votes will appear at the top of the contest thread.
All photos have to be entered by April 19th at midnight. Any photos entered after April 19th will be removed.
Voting can start as soon as the first photo is entered and voting will end on May 5th. Winners will be announced on May 6th.
Here's the photo you have to mimic: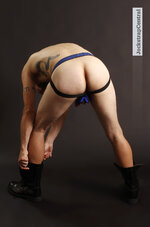 Last edited: