Administrator
Staff member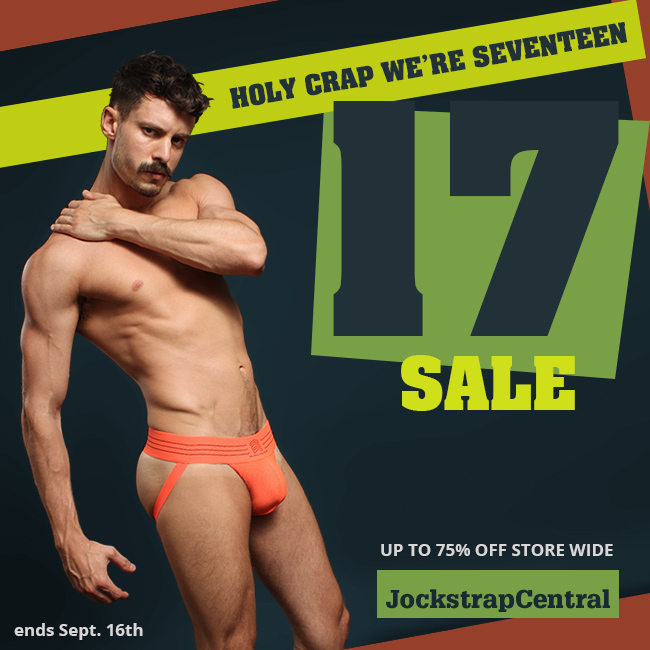 17 YEAR ANNIVERSARY SALE - UP TO 75% OFF STORE WIDE​
It's hard to believe that we've been jockstrapping and gearing up the world for 17 years! We officially launched
Jockstrap Central
on September 17th, 2005 and we've never looked back. To celebrate this milestone, we're hosting this massive sale where everything at Jockstrap Central is on sale for up to 75% off until Friday, September 16th. We've got jockstraps, gym shorts and tons of full-frontal and naughty stuff for all the show-offs out there.
This is a huge sale, up there with our Black Friday and Pride Sales and will also be hugely popular so shop early for the best selection. There are no discount codes to remember, simply visit our website to find all products listed with the regular price crossed out and the new sale price listed, it couldn't be any easier!
I won't get into all the specific sale items as there's simply too many to mention but be sure to check out our
Cellblock 13
collection of jocks, shorts, lounge pants and harnesses as it's all on sale for up to 50% off right now. Our sexy bulge-centric jocks and gear and exposing shorts from
McKillop
are up to 75% off. Our dick-centric
King Dick
jockstraps and underwear are 30% to 40% off including our top, bottom, versatile, sub and dom jocks.
Our very own
JC Athletic
collection of jockstraps, gym shorts and lounge shorts are now 15% to 20% off plus the rest of our sports jocks from
Omtex
,
GBGB
,
Wolf
,
Meyer
, Cellblock 13, King Dick and Alpha Charlie are currently 15% to 40% off.
And speaking of exclusives: Our Toronto based Russell Hardwear (cock rings),
Alpha Charlie
(jockstraps),
Raw Studio
(jocks, ball-lifters and cockrings), along with our Colombian
Bruto
gear (jocks, underwear and tank tops) are now 15% to 45% off.
Finally, essential fashion jocks and backless trunks from Canadian designer
PUMP!
are now 25% to 40% off.
There's too much to mention here, so just head to our website and check out the big event.
CLICK HERE FOR JOCKSTRAP CENTRAL