Administrator
Staff member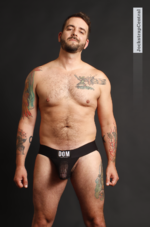 I love it when a black sports jocks becomes practically transparent when the pouch gets stretched. This is how our new King Dick Dominant Sports Jocks looks when our model Matty's rather large cock get hard and swollen.
*Jocks are available in Top, Bottom, Versatile, Dominant or Submissive and in white, black and royal-blue. Grab some for yourself here:
https://jockstrapcentral.com/king-dick.php
Don't forget to use discount code YOURJOCKSTRAPS to get 10% off your order!